Leather shelf supports
| Put together a beautiful wall shelf that matches your interior!
---
---
Als je op zoek bent naar leren plankdragers, dan ben je bij de webshop van Handles and More helemaal aan het juiste adres. In onze webshop hebben wij namelijk een breed assortiment aan leren plankdragers, zoals bijvoorbeeld leren plankdragers in combinatie met houten of stalen plank of leren "split" plankdragers. Al onze plankdragers worden met de hand gemaakt en zijn daardoor allemaal uniek, en daarnaast ook nog eens van geweldige kwaliteit.
Bij Handles and More zijn wij hoe dan ook een groot fan van leer. Leer heeft namelijk vele toepassingen en voordelen. Zo is leer bijvoorbeeld een erg duurzaam product. Leer wordt namelijk verkregen uit dierenhuid. Deze huiden blijven over vanuit de vlees- en zuivelindustrie. Het is dus eigenlijk restafval dat wordt omgezet in een mooi en nieuw product. Het leer dat wij gebruiken komt uit restafval van runderen, met name uit Duitsland en Italië. Het wordt verwerkt bij een leerlooierij in Nederland, waarna wij onze producten ontwerpen en produceren met ons eigen Nederlandse team.
Naast dat leer een duurzaam product is, gaat het ook nooit uit de mode en past het mooi in iedere woonstijl, of je nu gaat voor een boho look, een industriële look of juist een cottage style.
Leren plankdragers in 32 mooie kleuren
Al onze leren plankdragers, zijn beschikbaar in 32 mooie kleuren. Zo kun je bijvoorbeeld denken aan standaard kleuren zoals cognac, zwart en taupe, maar ook aan wat meer excentrieke kleuren zoals bijvoorbeeld lichtblauw of lichtroze voor in de babykamer.
Wij weten dat het lastig kiezen is uit al deze mooie kleuren, daarom proberen wij je keuze makkelijker te maken door ook samples aan te bieden op onze website. Zo kun je alle kleuren eerst even in het echt en in het licht van jouw kamer bekijken voordat je een keuze maakt. Wel belangrijk om hier op te merken is dat leer een natuurproduct is, hierdoor kunnen kleuren en structuren per stukje leer af en toe een beetje verschillen. Wij zorgen er echter wel voor dat per bestelling het leer bij-elkaar-passend wordt geleverd.
Houten- of stalen planken
Naast de keuze welke kleur leer je wilt, kun je in onze webshop ook een keuze maken voor de kleur van de schroeven en een bijpassende plank. Zoals de subtiele ronde eikenhouten plank, of juist de wat stoerdere stalen plank. Onze stalen planken matchen perfect met leer, maar ook met bijvoorbeeld een industriële of moderne woonstijl. Het staal dat wij gebruiken is van goede en dikke kwaliteit, en is daarnaast mooi afgewerkt met een beschermende matzwarte poedercoating.
Onze houten wandplanken zijn bijvoorbeeld leuk voor de Scandinavische woontrend. Ook deze planken zijn van hoogwaardige kwaliteit, en vervaardigd uit eikenhout. Onze houten planken zijn van blank hout, maar als je deze wilt afstemmen naar jouw persoonlijke stijl en interieur kun je deze natuurlijk gewoon aanpassen met een likje verf.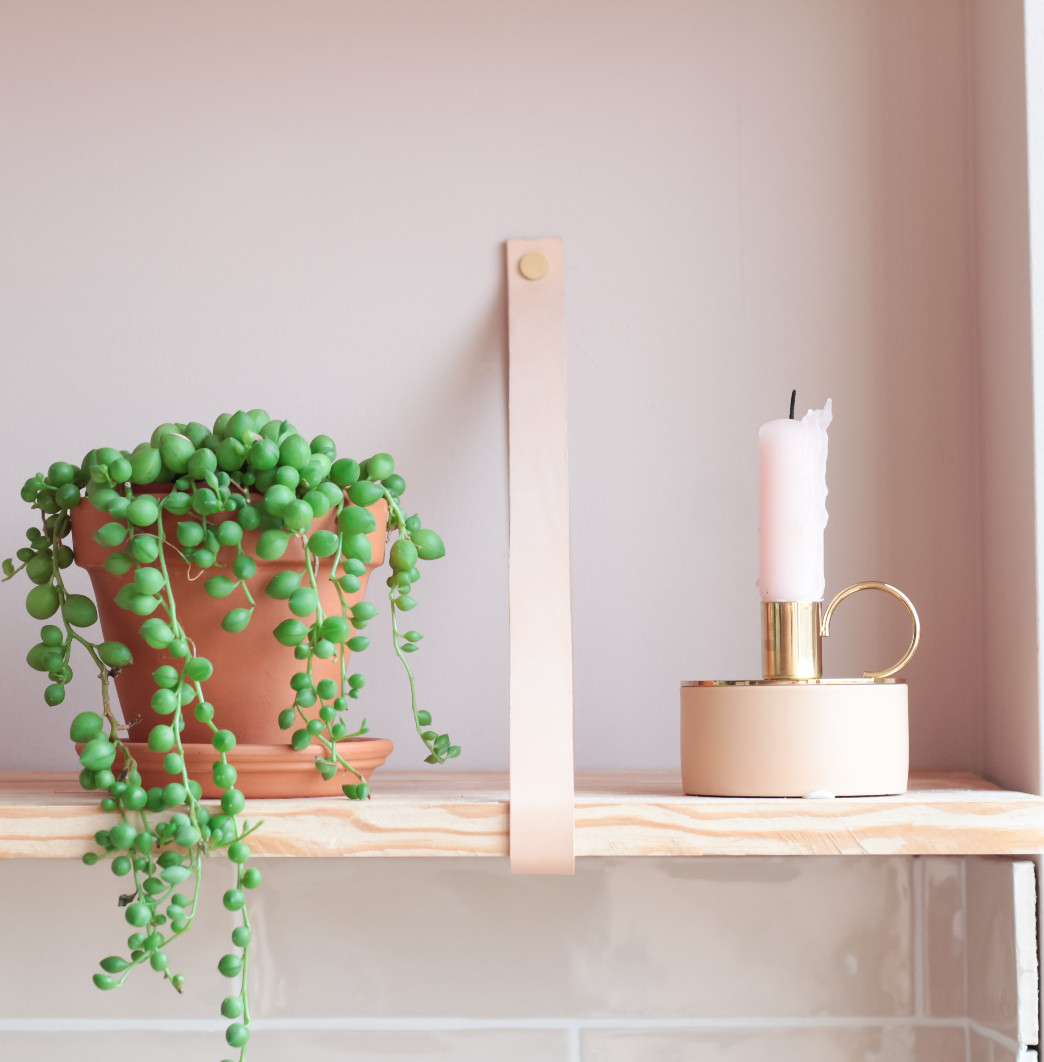 ---
Eenvoudige installatie van onze leren plankdragers
Het aan de wand bevestigen van onze leren plankdragers is relatief makkelijk. Met het meegeleverde bevestigingsmateriaal en een beetje handigheid kun je de plankdragers gemakkelijk aan de muur bevestigen.
Heb je toch nog vragen of wil je advies inwinnen? Neem dan contact op met onze vriendelijke specialisten. Wij staan voor je klaar!